Where & When
November 13
19:00pm - 21:30pm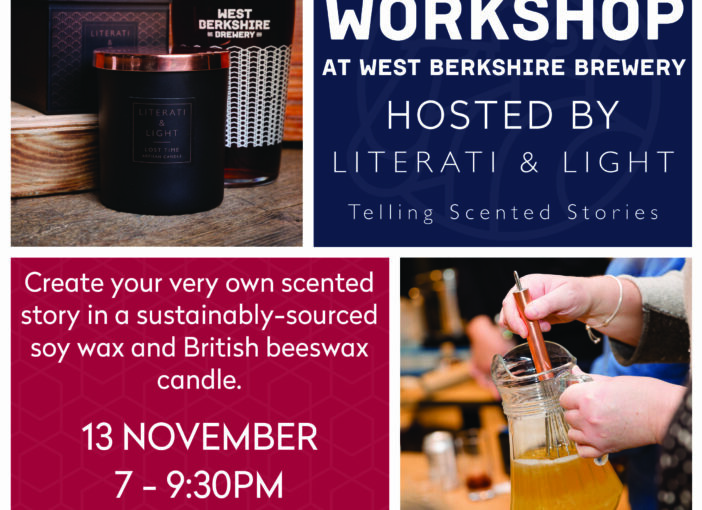 Create your very own 240g sustainably-sourced soy and beeswax candle with Literati & Light.
Each ticket includes your finished candle (choose from two fragrances) a lid, a beautiful gift box and either a WBB pint, glass of wine or soft drink.
Each candle will burn for up to 50 hours.
Choose from:
Lighthouse – Sea Salt, Driftwood, Hyacinths, Water Lillies
'Lighthouse' is inspired by Virginia Woolf's novella To the Lighthouse and is a fresh, ozonic fragrance that captures the fragrance of the British shoreline.
Comes with a handmade, beechwood lid.
Lost Time – Orange Blossom, Neroli, Lime-Flower Tea, Cut Grass, Water Lillies
The fragrance in this luxury, ethical, hand-poured soy wax literary candle is inspired by Marcel Proust's novel Á la recherche du temps perdu (In Search of Lost Time).
Comes with a polished stainless steel copper lid.
Literati & Light candles are poured by hand in beautiful Berkshire using artisan techniques. Every Literati & Light fragrance is expertly blended to tell a scented story and each drop of wax contains the maximum amount of fragrance . We respect the environment by using sustainable natural waxes and eco-friendly packaging.
For the safest and best burn, always follow the safety instructions on the base of the candle.
Book your tickets here.
Other upcoming events
@ 10:00:00 - 12:00:00
Renegade Taproom
@ 18:00:00 - 22:00:00
Renegade Taproom
@ 09:00:00 - 15:00:00
Renegade Taproom