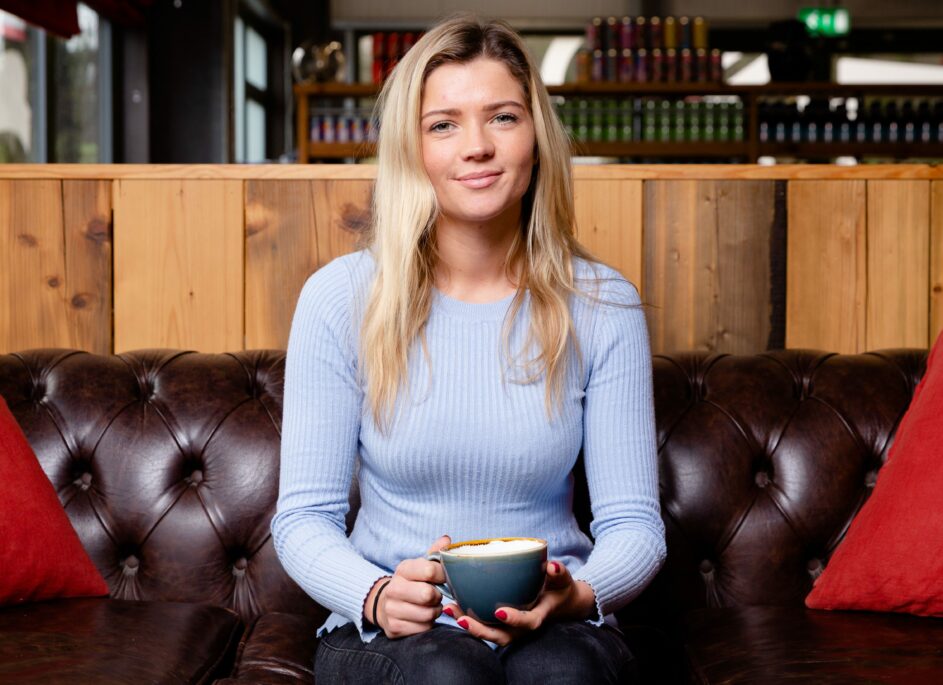 19th December 2019
Marketing Manager Clare has been part of the WBB team for some time now and you may have spotted her at events or in the Taproom (or possibly on social media with one of our many office dogs, her favourite is Humphrey by the way). Find out what Clare loves about her job & how she got in to it plus there's even a question for you lot at the end…
How long have you been at WBB?
I've been working at WBB for about 4 ½ years now, time flies! For a while it was just me in Marketing but now we have a fantastic team of three, and we each look after our own area within marketing. When I joined we were at the old site and all worked pretty closely, in one office and one portacabin – there was probably about 15 of us in total, and now we have 50+ staff so a lot has changed. Its been nice to move to the new brewery and watch the business grow the amount it has, we have developed the company in many different areas and it's been fun to work on lots of different projects from launching new beers, opening the Taproom and Kitchen and helping with the contract packaging business. We certainly haven't stood still and I think that's what keeps my job fresh and exciting.
What got you in to the beer industry?
Coincidence really! I was working in the marketing department for a recruitment company and I knew it wasn't really for me. One of my friends was working at WBB in sales and said they had a marketing role come up that I would be a good fit for and that was that. I love working in the beer industry – everyone is super friendly and always on hand to give advice. The craft beer boom has certainly shaken things up, there are more breweries now than ever, it's great to go to events and see what everyone else is up to and see how the industry is developing.
Last thing you listened to?
Christmas songs in the office.
Coffee or tea in the morning?
Tea – I don't drink coffee.
Fave beer of all time?
I think different occasions really make it for me so it changes. You cant beat the first drink on the beach on holiday or a bucks fizz on Christmas day morning.
Best beery venue you've visited?
Brooklyn brewery – we went for a tour and tasting when we were in New York last year and had the best time. It was great to see similarities between WBB and Brooklyn and their Taproom had the best atmosphere, even though they are pretty big now they were still brewing experimental brews on their smaller kit.
Favourite places to eat?
I love Asian food especially the food in Thailand. In the UK you cant beat a cosy country pub.
If you're not working, what are you most likely to be up to?
I have a horse so that pretty much takes up all of my time when I'm not working. Luckily I keep him near to the brewery so it's nice and convenient. I ride out most mornings before work and compete most weekends.
Most recent book you read?
Not a book but I'm trying to work out the labelling regulations for alcohol free vs low alcohol beers, I've spent a lot of time reading manuals but still don't know the answer, if you know then give me a shout.
Any other recommendations?
If you haven't been yet, come to the Taproom. Especially if we are showing the 6 Nations, it gets busy but the atmosphere is brilliant.