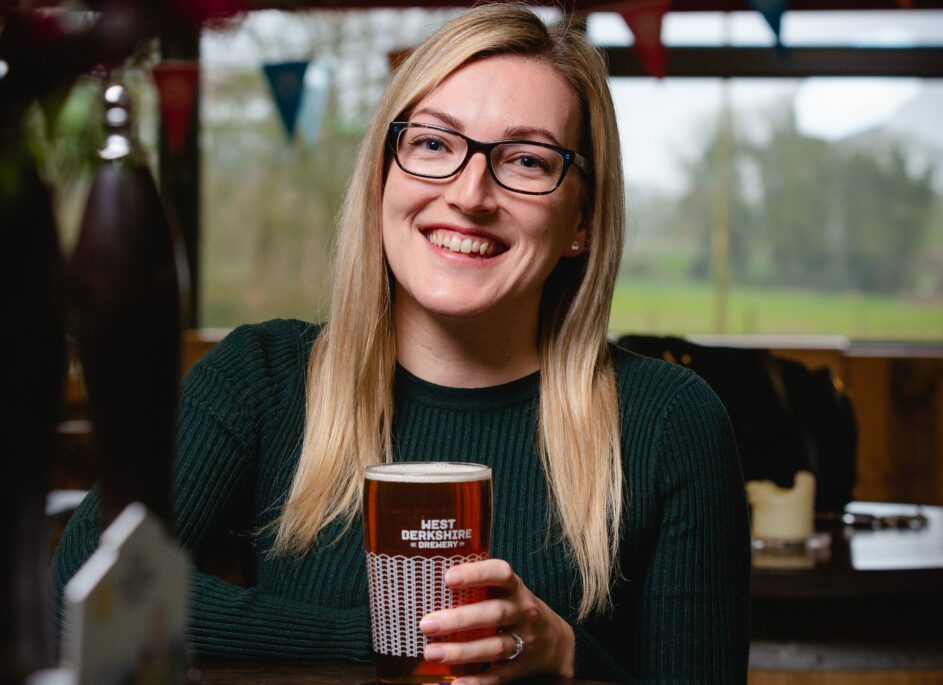 13th February 2020
Main things you need to know about Danielle; she loves a good singalong, she's training for her first marathon and she tells a brilliant, and usually hilarious story at about 3pm most Fridays. Danielle's also integral to WBB, incredibly hard working,  and has a smile for everyone. The office wouldn't be the same without her.
Full name: Danielle Bennett
Job title: Accounts Assistant
How long have you been at WBB and what were you up to before?
Almost 2.5 years now. I worked for a Housing Association previously in Didcot and worked at a bank in Newbury before that.
How has your role/the business progressed whilst you've been here?
Even in the 2.5 years that I have been here, the company has expanded a lot so I'm definitely being kept busy. It's really nice to have a lot more people working here though and seeing the company grow in such a short time. It's also great to have more females working here too, as it was really fun to do the Women's Brew Day together last year and I'm looking forward to doing that again this year.
Your favourite style of beer?
I love an IPA, I'm more into the hoppy tasting beers. I'm not a big fan of dark beers and I personally can't go near a sour beer! But that's the great thing about having a variety of styles, there's something for everyone.
Most recent book you read?
The last book I read was 401 by Ben Smith. He ran 401 marathons in 401 days and the book is so inspiring to read about his life, the challenge and his reasons for doing it. I went to one of his talks in Newbury too and it was so moving to listen to what he has been through and how he has come out the other side.
Do you have any hobbies or interests?
My main hobby is running. I have done 6 half marathons and I am now training for my first full marathon in April… I'm nervous/excited! I run with Hi-5 runners in Thatcham once a week and go to Parkrun most Saturdays, it's great having a couple of social runs a week to break up the training.
I'm also really interested in history and love going to explore different places when I get the time. My favourite place to visit is Hampton Court Palace (one of my half marathons was there too) – I love Tudor history.
Best place you've ever travelled to and why does this place stick in your memory?
We went to Mauritius for our honeymoon and it was the most beautiful place I've ever been and the locals are lovely people. It felt like paradise but there was also so much history and culture to experience too. If you ever get a chance to go, I recommend a boat trip to Ile aux Cerfs, which is a beautiful little island off the east coast.
I also had the chance to visit Thailand and Cambodia when my Dad worked out there for a while. Angkor Wat is a must see if you ever go to Cambodia, it's breathtaking!
Coffee or tea in the morning?
Green tea during the week and a proper cup of tea at the weekend.
Favourite food to eat in?
Prawn and courgette linguini is always on the menu once a week at home, so yummy! We use the recipe from the Lean in 15 books by Joe Wicks.
Favourite food to eat out?
Ooh that's a tough one, I love a good burger but I also LOVE Mexican food. The best Mexican restaurant I've been to is Mariachi in Edinburgh, it's family run and it was amazing food and service!
What was the last thing you listened to on the way to work?
I listen to Heart FM every morning… they play the sort of songs I can have a good singalong to before work!
Funniest thing at work so far?
Seeing Tom hurdle over the fence to rescue one of his dogs from the pond was definitely something I never thought I would see… but then Matt walked into a door the other week, which was hilarious (sorry Matt)… so it's hard to choose! There's usually something funny or odd happening round here though.
Tell us something we probably don't know about you.
I studied Beauty Therapy and Massage after my A-levels before going into Accountancy – I was a bit confused about what I wanted to do at first obviously…
Another thing is that I'm a big Boyzone fan! (although everyone at work probably knows that one) I may have paid extra money to do a meet & greet with them on their tour last year… It was a teenage dream come true though!
Oh and my party trick is that I can write quite neatly using my toes… what a way to end these questions!