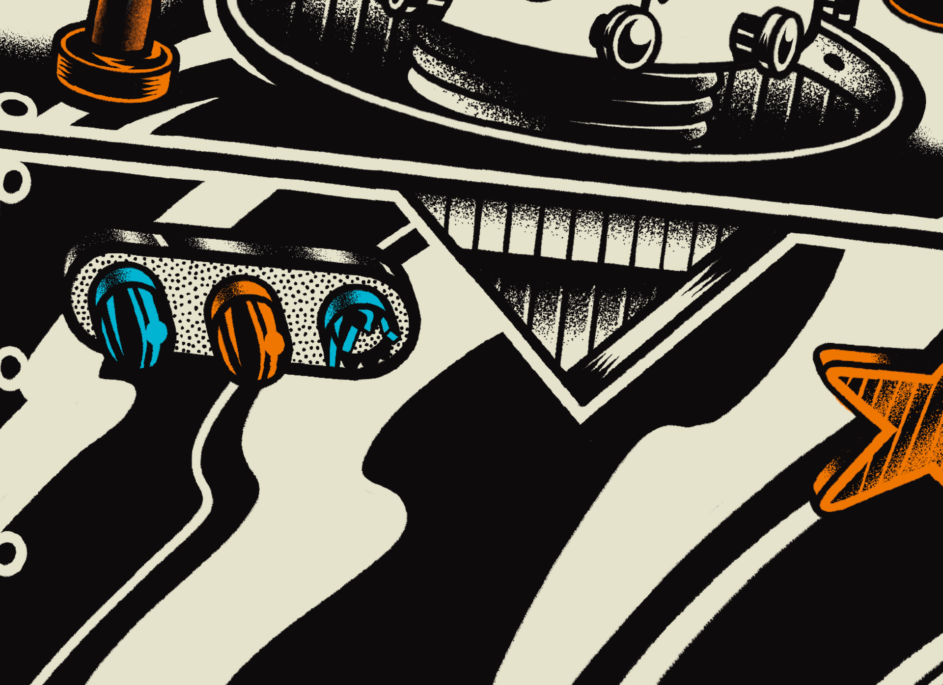 8th August 2022
Ed is one of the longest standing team members here, with 7 years under his belt and roles ranging from Accounts to Packaging. You may also recognise Humph, he's one of the original (and best…) office dogs. Ed's a Radiohead fan boy, loves a glass of vino and used to have a very demanding goldfish called Steve.
Full Name: Edward Hamish Cowan
What do you like to be called? Ed.
Job Title: Packaging Manager
How long have you been at WBB and what were you up to before?
This is my 7th year at WBB. Before that I was with Majestic Wine for 2 years and at the Bell Inn Aldworth for 6-7 years.
How has your role/the business progressed since you've been here?
Initially I started out in accounts and as a shop assistant at the old brewery site. As we were only a small team, I would often find myself loading lorries, out delivering beer, washing casks or building bars and display units for the shop. When the brewery moved down to the new site I took on the role of Retail Manager and looked after the shop mainly, and helped with the fledgling Taproom. Around November 2018 after 12 years in customer facing roles I fancied a change and made the move into the packaging department. In 2020 I was offered the role of Packaging Manager just in-time for the pandemic to increase our packaging lines output from 60,000 cans a week to over 400,000 more or less overnight. After all the recent changes I now head up an exceptional team of 11 people, packing kegs, casks, cans and bottles for both ourselves and contract customers. I'm really excited about the new beers that are coming along, the branding and the new direction of the business.
What is your favourite style of beer or favourite beer?
I used to drink Mr Chubb's Lunchtime Bitter almost religiously until a few years ago when it was changed. I really like the latest recipe as it's a solid return to form for this classic WBB beer. I like a Best Bitter or a fruity pale ale and not that you asked, but a thick, oak drenched deep red belter of a Syrah or Cabernet Sauvignon.
Most recent book you read?
Bridget Jones' Diary. I think I finished that in around 2008.
Last thing you listened to?
I was just forced to listen to some god-awful hogwash by Guns and Roses and Deep Purple as Elliott was on the-ones-and-twos in the brewery, honestly it's like living inside Jeremy Clarkson's head! In my own time, Tomorrow's Modern Boxes by Thom Yorke, all 9 Radiohead albums on repeat, the new Foals album and Electric Counterpoint by Steve Reich which is in my opinion, the greatest 15 minutes of music ever created in the world ever.
Last film/series you watched?
Film – Top Gun: Maverick
Series – Taskmaster & Secrets of the London Underground.
Hobbies or interests?
Listening to music, playing the piano, drinking wine, the Apollo Space Program, silly podcasts & having a good old sit (not a typo).
Best place you've travelled to and why does it stick in your memory?
My recent trip to Turkey will stay with me for a long time as the location was perfect, the weather was amazing, Effes is a decent beer & driving in a car with the steering wheel on the wrong side, speed limits which were apparently optional and locals driving tractors full of tomatoes the wrong way up the dual carriageway. That was buttock clenchingly terrifying.
Coffee or tea?
Coffee. Tea is just vegetable soup.
Favourite food to eat in?
Peanut Butter and Nutella in equal quantities on the cheapest plastic white bread. I owe my entire physical appearance to this healthy delicacy.
Favourite local restaurant?
Thames Lido in Reading – the Tapas is incredible.
Funniest thing at work so far?
So many but probably working behind the bar at the first ever Oktoberwest in a barn in the village. We were all dressed in ridiculous lederhosen, 500 people queuing for beers and none of us had a clue what we were doing – total chaos. Those were the best events we ever put on in my opinion.
Tell us something we probably don't know about you.
I used to have a goldfish called Steve who knew when his supper time was as he would knock stones against the glass at precisely 5pm.
What got you into the beer industry?
I worked in a local pub for nearly 7 years, got to know the founder's and most of the people at WBB and wanted to be part of that team.
Dogs or cats?
I have both, Humphrey the dog who is happiest with my shoes or socks in his mouth and Wilmot the black cat who still thinks he's worshipped by the Egyptians and so is generally a bit of a sit (that IS a typo). Dogs are the best animals ever and most humans don't deserve them.