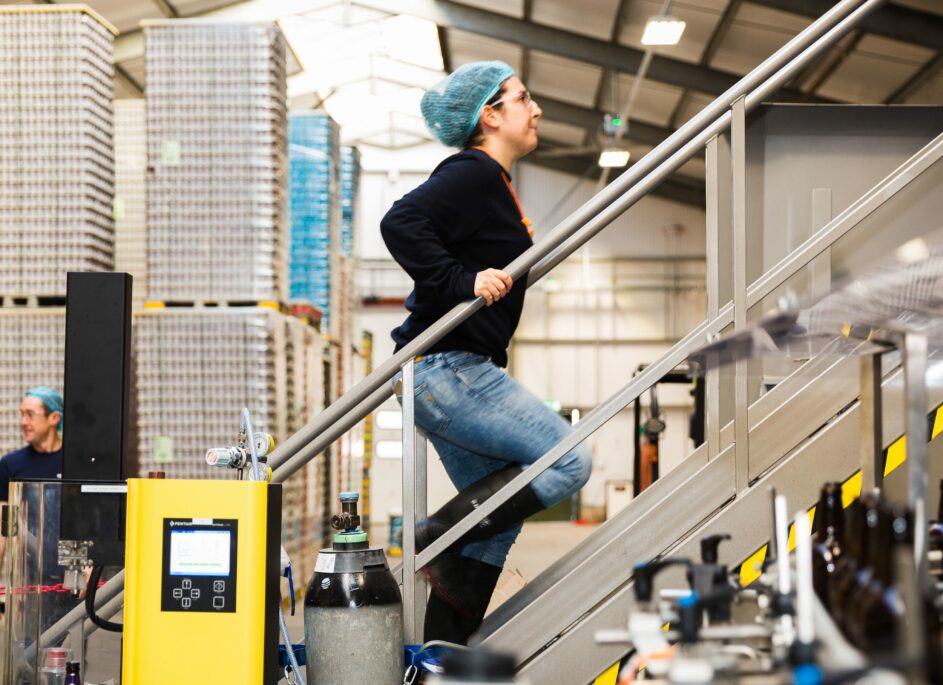 11th December 2019
Say hi to the newest member of our production team, Brewery Assistant Gloria who joins us from Gosnells in South East London. Hailing from Italy and having spent time in both Belgium and the Netherlands Gloria has a fusion of European influences which we're excited to see translated into a brew. Get to know Gloria better, we had a chat about beer, food and music:
Where have you joined WBB from?
Before I was working in a small brewery in South East London called Gosnells. Gosnells specializes in craft mead with a modern take on it. In fact, all the products are sparkling and with a low ABV as compared to more traditional styles. Working with honey was amazing but I have always preferred beer! Before coming to the UK I lived 2.5 years in Belgium, where I did a Masters Degree in Water Resources Engineering. Sadly (I really loved living in Belgium!) I moved to the Netherlands for a short period of time to do an internship at Emelisse Brewery.
What got you in to the Brewing industry?
I am originally Italian and there the industry is mainly dominated by wine. I have never been such a great wine fan and when the craft beer revolution happened, I was so happy! It was the beginning of the bachelor years and a friend got me a homebrew kit and then is probably when I got more to know about the process and all the beer styles. However, I've never really thought about entering the industry until the end of the Master. The first internship I did in the Netherlands was a sort of trial period just to understand whether it was for me and luckily, it was!
Favourite band/song/playlist?
mmmh this is a hard one. My favourite band is probably Radiohead.
Coffee or tea in the morning?
Coffeeeeee
Fave beer of all time?
Coco Chango from the Basqueland Beer Project, an amazingly smooth Imperial Rye Porter with chocolate and roasted coconut or Matters of Perspective, a collaboration between Buxton Brewery & Verdant Brewing Co.
Best beery venue you've visited?
Probably the new LHG Taproom & Brewery in Bristol.
Favourite places to eat?
For that I am probably going to pick my favourite pizza place in Italy! Close to the little town I come from, it's called La Smorfia.
Is there a beer style you can't wait to brew?
Maybe a dark IPA…you don't see them a lot around!
Most recent book you read?
I've recently finished The Trial, by Kafka.
Recommendations for anyone visiting Belgium?
I would recommend to visit the City Hall on Saturday afternoon with the guided tour, wander around the 'begijnhof' and have a beer (or two) at the De Fiere Margrite.
In Brussels the Christmas Market is particulalry nice. A bit more artsy, i found very nice the Magritte Museum and the comics museum. Brussels has a lot of Art Nouveau architecture and it's full of street art everywhere. Also the Brussels Beer Project, Brasserie De La Senne and Brasserie Cantillon are worth a visit.
Still beery, but outside of Brussels i would recommend 3 Fonteinin, an amazing lambic brewery.
The city of Ghent and Bruges are also very nice, with the canals and the Northern European feeling.
Food is also good in Belgium, kind of French-influenced. A good moment to visit Belgium is during beer festivals 🙂 my favourites are: Innovation Beer Festival and Zhythos Beer Festival in Leuven and the Modest Beer Festival in Antwerp, hosted at the Brouwerij De Koninck.
Music venues, De Roma (in Antwerp) and in Brussels: AB, Bozar, The Beursschcouwburg, Bravo and Bonnefooi.